India is a land of rich heritage. Its cultural and architectural roots and traditions are a source of great national pride. One aspect, which perhaps, doesn't get as much global attention is its unique spiritual inheritance. This land of Vedas and sages has given us a distinctive legacy of passing on esoteric metaphysical knowledge of the ultimate truth, from generation to generation through the establishment called ashrams. These were designed for serious aspirants seeking the absolute existence, seeking the highest plane of reality and wanting to know the actual purpose of human life.

Ashram - an Overview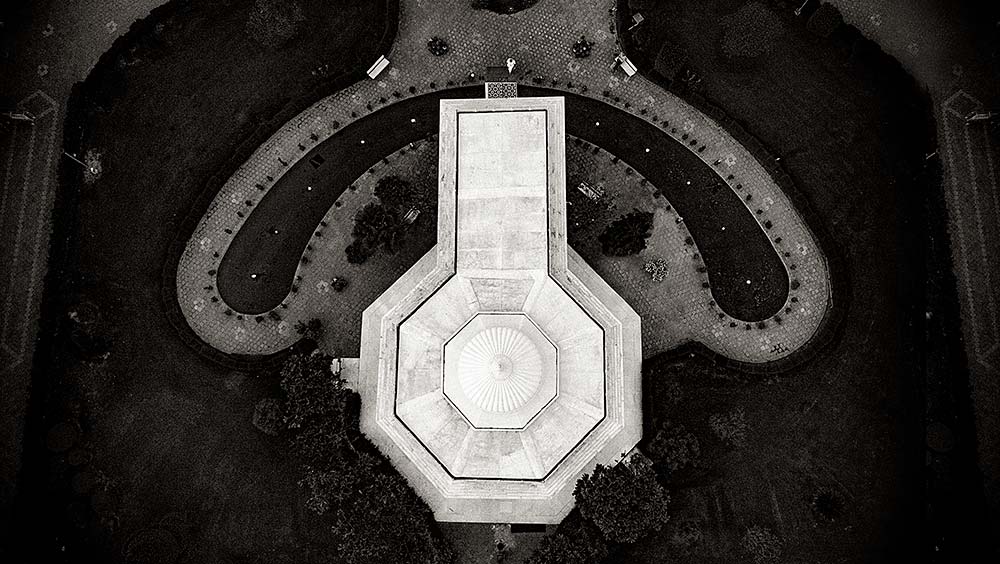 Since prehistoric times ashrams have been imparting structured learning programmes where students learn and practise vital inner yogic sciences under the guidance of a living master. Continuing this glorious tradition is our ashram - Rishi Chaitanya Trust. Established in 1997, it is a non-government, non-profit charitable organisation. Under the guidance of revered master Anandmurti Gurumaa, its main mission is to provide dedicated services towards spiritual upliftment of the masses. The trust provides a residential retreat centre where various activities are held regularly in this regard and are open to all without any discrimination.
Besides this, the trust is very active in humanitarian activities like mission shakti aimed at empowering underprivileged girls by providing them with education and essential life skills that enable financial independence. As and when needed, the trust also provides ad hoc help for victims of natural disasters and calamities.
Charitable events like blood sharing camps, free health check ups of deprived populace residing in nearby villages is also an integral part of our mission. The master's dynamic vision ensures continual emergence of new activities and programmes which help in spreading our philanthropic wings in order to reach out to more and more destitute people.
The ashram is aesthetically designed to provide a perfect setting for both, serious seekers wanting to make a concerted effort towards their spiritual evolution and worldly folk seeking a sanctuary to unwind and take a breather from their frenetic lives. The ashram was founded on this very basis of providing a conducive environment for people to learn, practice and thus spiritually evolve under the guidance of a living master.

How to Reach
Tucked away in picturesque surroundings, the ashram is located in Ganaur district in the northern Indian state of Haryana. It is easily accessible by road, train or air. Delhi is the nearest domestic and international airport, around 60 kms away. Plenty of safe taxi transport is available from airport to ashram. Those wishing to come by train can disembark at Ganaur station and take a rickshaw which will get you here in 5 to 10 minutes.

Grounds and Campus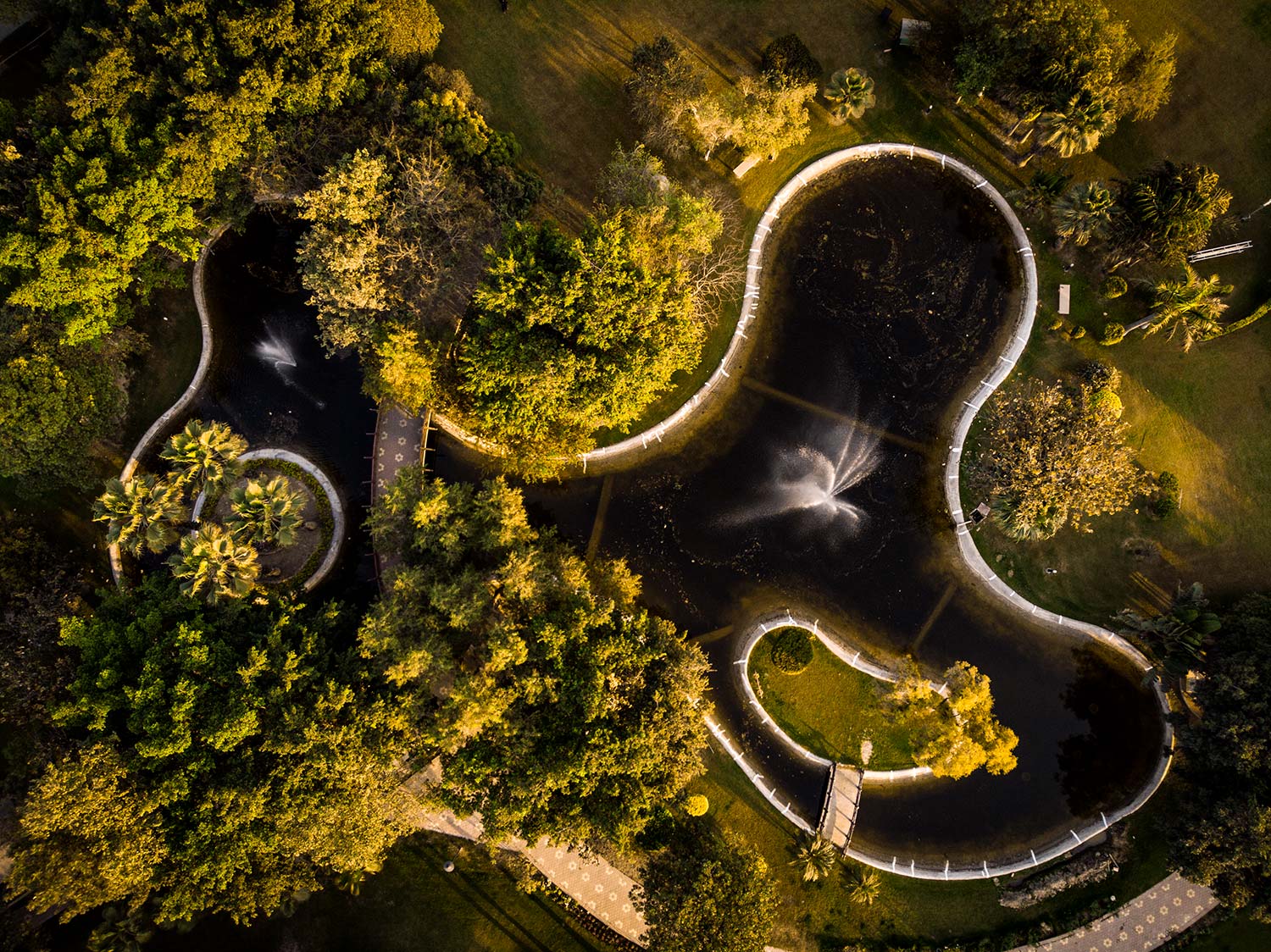 Set amidst acres of luxuriant greenery, the ashram is a complex of several buildings linked by stretches of abundant leafy vegetation and tree lined boulevards. As one passes through the ashram gates, a beautiful temple pleasantly greets the eyes. It houses a strikingly captivating idol of Lord Shiva and just sitting by the side of the sanctum sanctorum imparts a profound sense of peace. This gives the visitor a taster of the boundless layers of tranquillity and joy that unfold as one breathes in the ashram air.
Life like sculptures of deities and sages are dotted around the campus adding to the spiritual ambience. Lush green grass and beautifully landscaped gardens are a sheer delight to the senses. A motley of kaleidoscopic perennials and seasonal blooms is seen throughout the ashram, painting it in eye-catching vibrant colours. And in spring times, the heart is further gladdened by the sight of butterflies making the most of the fragrant blossoms, fluttering from one flower to another.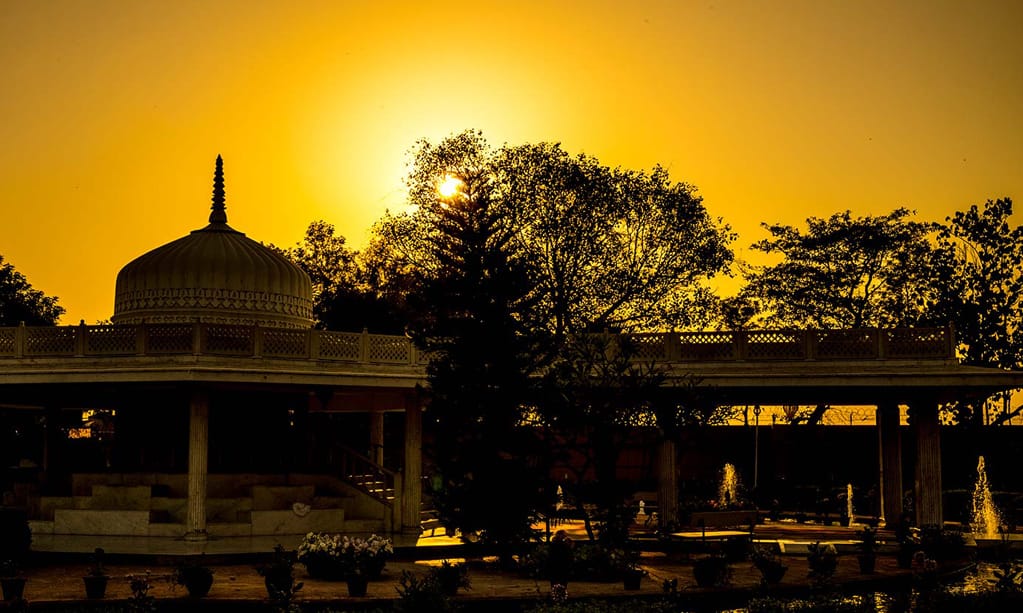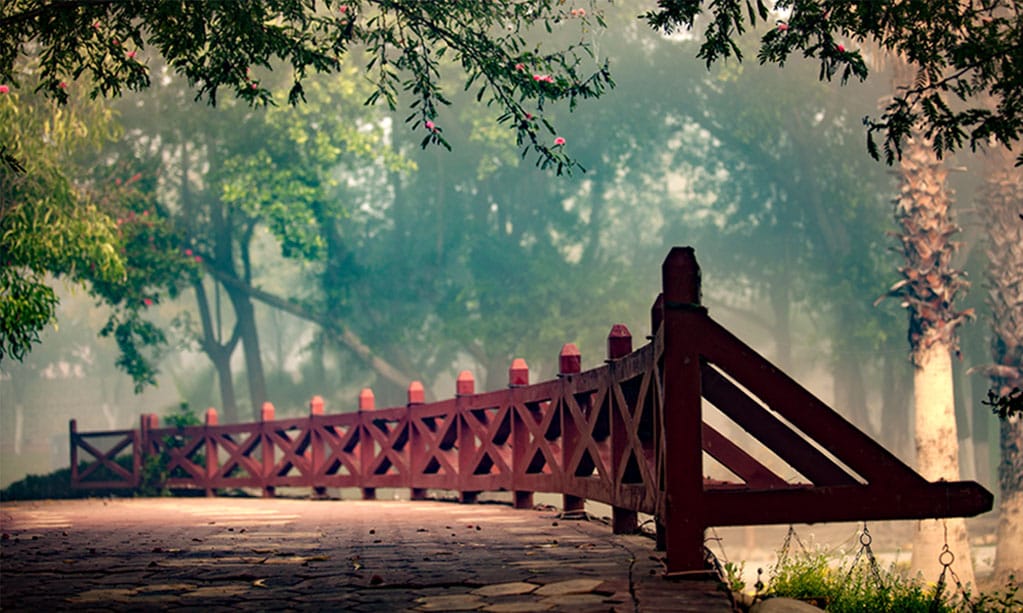 Nestled in the foliage is a serene pond. Its unruffled waters shimmer in the gentle light of dawn and glimmer on a moon lit night. One can spend many a peaceful hour gazing and imbibing its stillness, and the mind readily enters a tranquil zone of effortless quietude.
Unsurprisingly, the prolific foliage attracts a variety of birds with over 30 migratory species chirping gaily all over the place. Bird watchers can spend happy hours catching sight of these fine feathered creatures.
The ashram has large areas dedicated to organic farming using natural manure. Seasonal grains and vegetables are all home grown. Fresh cabbages, cauliflower, tomatoes, leafy greens, beet, herbs etc ensure that inhabitants get vitamin rich, healthy organic food throughout the year. Seasonal fruits are obtained from in house fruit orchards. A garden of medicinal herbs, shrubs and trees is used to prepare Ayurvedic medicines.
Dairy too is in-house. A beaming bunch of healthy, happy cows generously share their organic milk with their two-legged friends! The master loves to feed them jaggery balls and they too eagerly await her arrival, swiftly lapping up the treats from her hands!

Sacred Halls

There are four halls dedicated for yogic practices and discourses. Patanjali is a cosy hall lit with an ombré of amber hues, warm and sublime. Essentially used for swadhyaya and meditation it is vitally suitable to accommodate a small group of people.
Yoga asanas are practised in the Madhushala, housing the energy of spiritual practitioners learning asanas with great verve and zest.
Sambudh Sabhagaar is the meditation hall, aptly named to celebrate the potential for enlightenment within each and every one of us. The exquisite mural at the entrance depicts the Buddha seated with bhikshus, their serene faces a silent reminder to open the lotus of the heart. Such a charged, potent, compelling atmosphere has been created, for this is where intensive meditation retreats are conducted by the revered master, laying the foundation and inspiring one to awaken, in this very lifetime. This hall is also the venue for the revered master's Sunday Darshan. Experience the reverberating silence, enjoy the sheer peace.
The largest hall, Saptarishi is named after the Seven Sages explicated in the ancient texts who have commenced the tradition of entrusting the vedic knowledge through the guru-shishya tradition. It is a structural highlight of the ashram. A grand yet elegant architecture, the building is a state-of-the art auditorium designed with a high ceiling, sophisticated technology and advanced sound system. The adjacent street lamp-lined promenade and the pretty hanging flower baskets give it an ethereal feel. And this looks even more appealing at night time.
It can comfortably seat around 4 thousand people. This is where most of the meditation retreats take place.

Accomodation

All residential dwellings are wholly equipped with upgraded modern amenities providing clean, well furnished, airy rooms available as single or double occupancy in refurbished buildings. You can also avail accommodation in any one of the three large well-maintained dormitories if you so wish (separate for men and women).
Booking rooms is at one's fingertips. It can be done online through the website, by telephone or in person. Office hours stretch from 10 am to 5 pm and related enquires can be resolved in the aforesaid period.

View Details >
Guest Amenities
Food
Food is served in a large dining hall called Annapurna. Breakfast, lunch and dinner are served at set times. Before every meal, prayers are offered to the divine thanking him for his immense grace. People sit on the floor to eat but arrangements are in place for those who can't sit down. Food served is piping hot, vegetarian and is freshly prepared from locally grown organic produce.
It is nutritious and hygienically prepared in the adjoining kitchen. Food tends to be less spicy, less oily and less salty ensuring it is healthy and easy to digest. Menu keeps changing to maintain diversity. The evergreen and delicious khichdi though, remains popular not only with the infirm but is also appealing to healthy folk.
Every now and then, the master comes into the kitchen and dining area, at times not only cooking but also serving rotis to the pleasantly surprised diners. The ashram has large areas dedicated to organic farming using natural manure. Seasonal grains and vegetables are all home grown. Fresh cabbages, cauliflower, tomatoes, leafy greens, beet, herbs etc ensure that inhabitants get vitamin rich, healthy organic food throughout the year.
Café
In addition, there is a café cum convenience store in the ashram which sells basic essential commodities and serves hot drinks, fresh juices, fruits, savoury and sweet snacks. Delectable toasties and pasta are especially popular with the youngsters. So if you wish to have a moment in solitude sipping your Cappuccino, immersed in a deep state of introspection, café is the place for you.
Shop
Next to the café is the Ashram's shop Mandala - your resource house, offering you the latest releases to the oldest bhajans and discourses of the master. Pearls of wisdom; encapsulated in books, audios or videos offer a wide range of content that the revered master has elucidated. Besides, master's most captivating portraits are sure to leave you overwhelmed with divine love. Other paraphernalia Iike yoga accessories, essential oils, handmade body soaps for body rejuvenation and such like are also available.

Virtual Tour
Have a bird's eye view of the ashram premises and be instantly transited virtually into the sphere of spiritual transformation.

Contact Us
Rishi Chaitanya Ashram, NH-1 Gannaur, Distt. Sonepat, (Haryana) - 131101
Phone: 0130-2216500, 2216501, 09896263821
Email: info@gurumaa.com