Plan a Visit to Ashram
be in the divine aura
All are welcome to be part of the uplifting & pacifying environment of Rishi Chaitanya Ashram, where you get ample opportunities to learn, practice and evolve under the guidance of revered master Anandmurti Gurumaa.

Book Your Stay
Fill the form given below to send your requets for accomodation in the ashram.
Please Note: Accomodation is at the sole discretion of ashram. Send your request 15 days prior to the date of arrival. You will recieve availability status on your email.
Locate Us
Rishi Chaitanya Ashram
NH-1 Gannaur, Distt. Sonepat,
(Haryana) - 131101
Phone: 0130-2216500, 2216501
Mobile: 09896263821
Email: info@gurumaa.com

Accomodation Facilities
The ashram offers simple styled accommodation equipped with the modern amenities.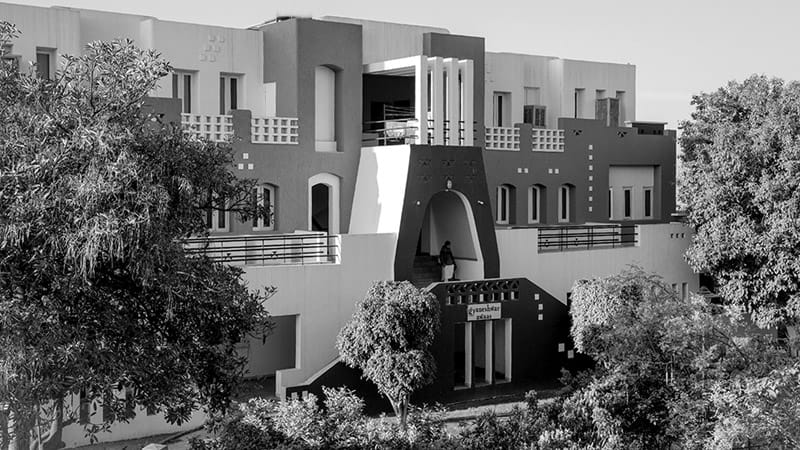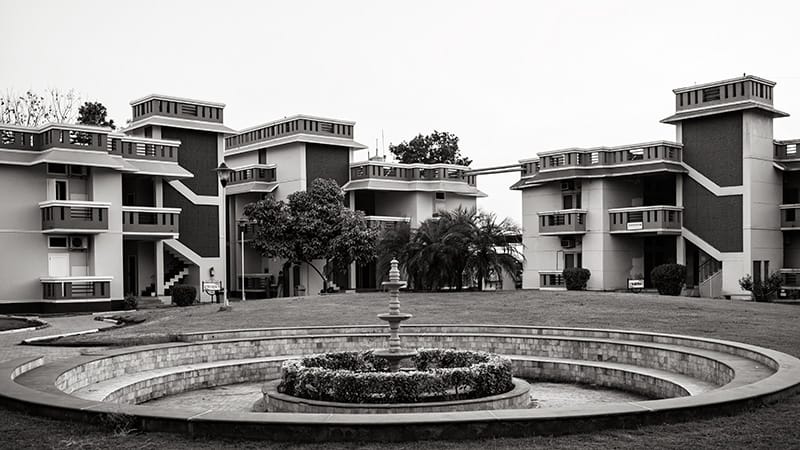 Double Bed Rooms
Nestled in Bodhisatva- a unique L-shaped building with its impressive main entrance, wide corridors and high arches, line the well-ventilated, spacious double bedrooms suitable for families and large groups. Open terraces at different levels add to its spectacular beauty. Set in the midst of lush green fields, from here you can enjoy a bird's eye view of the ashram and the magnificent sunsets. Most rooms are furnished with a king size bed along-with a single bedding suitable for couples accompanied with a child or for a group of three or more. We also have a few rooms that are offered to large families/group of 6 or more, inclusive of twin-bedroom attached by a living area and a small kitchen. Every room has an attached bathroom which are fitted with western style toilet, basin and cold/hot water available all-round the year. The rooms are well-equipped with in-built cupboards and air-conditioners to deal with the hot summers of India. To come to grips with the cold winters portable heater and hot kettle are available on request. Every room has a balcony opening where one can stand gazing at the chirping birds returning to their homes at dusk, the lush green trees and the twinkling night stars.

Single Bed Rooms
Ganga, Yamuna, Saraswati and Triveni –named after the rivers of India, a unique confluence of four, not three! These buildings house single rooms, which are warm and inviting, equipped with modern amenities. These rooms are best suited for a single individual although the room can accommodate two if the need arises, as the room is equipped with two single beds. This room is also felicitous for those who wish to pursue intense sadhna practice in solitude in accordance with the guidance given by the master. The attached bathroom is fitted with western style toilet, basin, and offers an option of cold and hot water all-round the year. For summers, you have the option of cooler or AC rooms while in winters you can opt for heater and hot water kettle. Most rooms have balconies opening your view to the ashram premises while some have been extended to provide you with extra space and comfort.

Dormitories
Gyaneshwar Awaas, Nanak Dhaam and Vishwanath Dhaam offer shared accommodation – breezy dormitories with cubicles containing individual beds as well as spacious halls with several beds. Clean and bright, they offer a chance to live with like-minded aspirants, respecting each other's silence and space, all at an affordable price. Named after the great sages, Sant Gyaneshwar, Shri Guru Nanak Dev ji and Mahadeva - Lord Vishwanath, these are reminders to seek the Eternal within, just as these great yogis have sought and found.

Special Notes
The ashram doors are open for one and all whether for a short visit or a stay in the Ashram, please ensure you plan your visit within office hours (10 am to 5 pm).
Please keep in mind that Rishi Chaitanya Ashram reserves the right to accept or reject the booking at its own discretion.

No requests for the room are considered during the retreat days.

Request for the extension of the stay duration, should be given in the Ashram Office. It is entirely on the discretion of the management of Ashram to approve/disapprove the request.

In case your conduct during the stay is not appropriate according to the rules and regulations of the Ashram, your booking can be revoked. Ashram reserves the right to cancel the booking at its own discretion.

Rules & Regulations
Make the most of being in the Ashram by observing silence.

Take a break from your busy life. Keep your cell phones switched off during your stay. If required, you can make the calls from your room.

Drink the divine nectar. Use of cigarettes, alcohol or any other type of intoxicants is strictly prohibited.

Discipline is indispensable for a seeker. Kindly adhere to the daily schedule which shall be handed over on your arrival.

Capture the beauty of Ashram in your heart, as photography & videography is strictly prohibited.

Ashram is a beautiful sanctuary, cleaned and maintained by the resident seekers. So you are requested to keep your room neat and clean during your stay and help in keeping the beauty intact.

Must Brings
It is compulsory to wear white clothes/robe during meditation sessions. They are available in Mandala, the book store in the Ashram.

You will need mats to attend meditation and yoga sessions. They are also available in Mandala.

You may bring toiletries along or get them from Café at Ashram.

Important Information
Please note that you must take care of your personal belongings during your visit at Rishi Chaitanya Ashram. The Ashram does not bear any responsibility for your belongings in case of any mishap. Note that it meticulously works to the best of its capacity to offer you a secure and happy environment but it does not uphold any responsibility for unforeseen incidents.

Also note while visiting the Ashram all visitors must take care of their health and wellness. You are advised to carry the necessary medicines or medical aids as per your underlying medical condition. The Urja health centre at Ashram does provide the immediate first aid service but it will bear no responsibility for undertaking medical urgencies requiring advanced medical supervision.

During your stay at Rishi Chaitanya Ashram, please remember it does not uphold any responsibility for the activities you perform outside the Ashram premises. You will be solely responsible for your actions.